---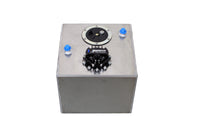 P/N 18387 Brushless Eliminator 6 Gallon Fuel Cell with Variable Speed Controller
Eliminator Performance Plus Advanced Technology

6-gallon Racing Fuel Cell with Stealth Eliminator Brushless Pump, aircraft filler cap, ORB-10 outlet, AN-08 baffled return and roll-over protected AN-08 vent. This is the same fuel cell design used in the Ford Cobra Jet, Chevy COPO Camaro and MOPAR Drag Pack cars.
Baffled design keeps fuel at the pump inlet
Fluted pickup with integrated 100-m prefilter
The Eliminator performance you expect and more:

Fuel Injected Engines:
up to 1900 FWHP – naturally aspirated
up to 1400 FWHP – forced air induction
Carbureted Engines:
up to 2300 FWHP – naturally aspirated
up to 1700 FWHP – forced air induction

E85 Compatible pump, reduce max FWHP by 30%
Lighter than the traditional Eliminator pump.
Reduced current draw at higher, EFI pressures.
Extended service life in methanol and ethanol.
Integral, external brushless controller for clean installation, cooler fuel and enhanced reliability.
Quieter than the traditional Eliminator pump.
ORB-10 outlet port.
Requires straight 12-VDC to 16-VDC power supply.
Not compatible with pulse modulated systems or fuel pump speed controllers.
Fuel Cell Dimensions: 12″w x 12″l x 10″h
Carb Rated Flow of 1,300 lbs./hr. @ 9 psi, 13.5 volts
EFI Rated flow of 1,000 lbs./hr. @ 45 psi, 13.5 volts
Aeromotive's True Variable Speed Controller offers the advantages of built-in pump speed control via a dedicated 0-5V analog DC input signal. The Controller capitalizes on our existing brushless technology by reducing fuel flow during low engine demand and decreasing an already low current draw, therefore minimizing both motor heat the introduction of environmental via reduced fuel recycling.
VSC Brushless Eliminator 6 Gallon Fuel Cell
Part #:
18387
Length: 21"
Width: 13"
Height: 14"
Emissions Code: 3