---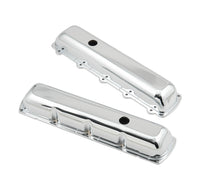 Chrome plated steel valve covers have a flat smooth top. Fit Oldsmobile 260-455 engines.
Chrome valve covers w/o baffle for 1964-90 Oldsmobile 260-455 engines.
Part #:
9422
Length: 23.6"
Width: 12.6"
Height: 4.2"
Emissions Code: 5
Prop 65: Yes
Installation Notes:
These valve covers do not have baffled oil fill holes due to clearance problems with most high performance valve train components. Optional baffle grommets # 5425 can be used with these valve covers to reduce oil splash from the valve train.