---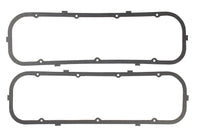 - Manufactured from high-density cork/rubber blend gasket material.
- A black latex rubber coating is applied to the outside of gasket to help seal minor flange irregularities and eliminate the possibility of oil leakage.
- Creates a positive seal by controlled swelling of the gasket material when exposed to hot engine oil.
- Available in standard or extra thick to provide additional rocker arm to valve cover clearance.
- For OE replacement, high performance street, drag race and oval track use.
Valve Cover Gasket Set - Ultra Seal 0 396-502 Chevrolet Big Block Mark IV/V/VI 1965-00
Part #:
5862
Length: 0.7"
Width: 8.5"
Height: 29"
Emissions Code: 5
Prop 65: No