---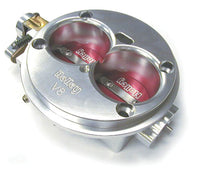 Does your engine seem like it's out of breath? You can increase engine breathing with a Holley high-air-flow throttle body! Fully CNC machined from 6061 billet aluminum, these new Holley throttle bodies are designed to use the stock TPS and IAC to simplify installation. Some throttle bodies are even anodized clear, blue or red for good looks. They also include all the necessary vacuum ports and linkage to facilitate installation. Don't get left in the dust. New Holley high-flow throttle bodies are the ticket to ride.
1996-01 Dodge Truck (all) 5.2/5.9L
Part #:
112-557
Length: 11.25"
Width: 10.5"
Height: 3.75"
Emissions Code: 4
Prop 65: No
Installation Notes:
NOTE: Some manifold machining may be required to correctly port-match the throttle body to the intake. NOTE: For engines that require 3 throttle body mounting studs.
FEATURES
High Flow EFI Throttle Body 2 x 52mm
Clear Coat