---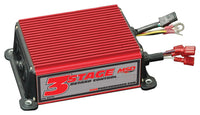 The Three Stage Retard Control allows you to retard your ignition timing in three different stages. You can activate one retard for a nitrous stage and another at top end in high gear for more mph and still have another module left over for dual stage nitrous systems. When activated together, the retard amounts are cumulative so you get the total of the three. For example, if you pull 2°, then 4° on the second stage and another 2° at top end, the total retard is 8° (2+4+2=8).
In addition to the individual retard stages, the Three Stage Retard Control has an optional start retard function that retards the timing 10° or 25° while cranking the engine.
The Three Stage Retard Control connects easily to your MSD Ignition and can be triggered from points, electronic ignitions, crank triggers or magnetic pick-up distributors. It is supplied with a 2°, 3° and 4° module and must be used with an MSD 6, SCI, 7, 8 or 10 Series Ignition.
Three Stage Retard Control
Part #:
8970