---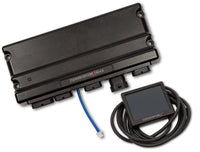 Take control of your LS engine with Terminator X Max! Don't settle for a junkyard ECU with a cumbersome tuning interface when you can have complete control of your engine, self-learning fuel strategies and the proven, race-winning technology of Holley EFI at a budget-friendly price!
Terminator X Max features real-time fuel learn, high impedance injector drivers, an integrated 1bar MAP sensor, and 4 programmable inputs and outputs. The inputs and outputs are ideal for electric fans, boost control solenoids, progressive nitrous control, and much more. Part number 550-917 also has 4L60 or 4L80 Transmission control. Terminator X Max comes fully loaded with base maps for common LS engine combinations to get you out of the garage and on the road/track fast. The 3.5" touch screen LCD handheld contains an easy to use calibration wizard as well as tuning and gauge display functions. Also included is Holley EFI's industry-leading, easy to use software suite that allows full laptop access for advanced users. Whether you are building a budget beater or a boosted race car, Terminator X MAX has the features and technology you need at a price that won't break the bank!
Terminator X Max Early Truck 24x/1x LS MPFI Kit with Transmission Control
Part #:
550-917
Length: 12.25"
Width: 11"
Height: 8"
Emissions Code: 4
Prop 65: No
Installation Notes:
Terminator X ECU's are designed to be mounted with the LED's facing up.
FEATURES
For GM LS 4.8/5.3/6.0 Truck Engines with 24x crank reluctor
Transmission Control
and Multec 2 Injectors
Real-Time fuel map learn
takes the guess work out of tuning your base fuel table.
High Impedance Injector Drivers will safely power most Stock LS injectors
and Holley EFI Injectors. Injector support chart provided in the instructions (Will not control Low Impedance Injectors)
All of the new Terminator X Max systems utilize the Bosch LSU 4.9 wideband to relay AFR information to the ECU for accurate reading and precise tuning control.
On-Board 1bar MAP sensor
is perfect for N/A or Nitrous engine combos. If your combination requires a 2+Bar
we recommend GM 12592525
and our adapter part number 558-416.
MAP Sensor vacuum hose adapters (1/8th – ¼ and 3/16ths)
4 Inputs – 12v
Ground
5v
and Frequency
for things such as additional pressure sensors
or activation triggers for nitrous activation
or a trans brake
4 Outputs – Ground
PWM -
for accessories such as; fans
boost control
nitrous control
IAC Kit
and More
Boost Control – Boost vs Time
Boost vs Gear
Boost vs RPM
Boost vs Speed
Boost Safeties
Nitrous Control – Single Channel of Wet or Dry
Progressive or Non-Progressive
Rich/Lean Safeties
and target Closed Loop AFRadjustable through included 3.5" full color touchscreen
base tune easily created via handheld Wizard!
Advanced Tables – 4x 1D Tables
1x 1D per Gear Table
4x 2D Tables
1x 2D per Gear Table
can be used for any custom tables you can dream up
such as Flex Fuel Sensor Offset Table
or a custom fuel or oil pressure safety!
On-Board Diagnostic LEDS for: ECU Power – Engine Run – Wideband Status – TPS Calibration – Crank Signal –Cam Signal. Allow you to identify any Critical engine issues at a glance
The included 3.5" Touchscreen Handheld contains a calibration wizard
that allows you to quickly build a base tune for any LS engine. Additionally the handheld provides internal data-logging and a fully customizable gauge display.
The compact ECU size allows you to mount it virtually anywhere. Remember
diagnostic LEDS must face up!
Plug and play compatible with more Holley EFI accessories such as; analog style gauges
shift lights
various modules
and coming soon
12.3" digital dash support!
Free EFI Tuning Software for complete control of your Terminator X power plant