---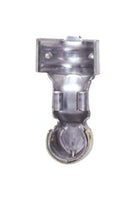 These spark plug terminals are what you need when you custom make your own sets. Available in 100 quants.
The MSD's 8.5mm spark plug terminals feature "Dual Crimp" terminals. As the name implies, the terminals feature two crimps; one for the sleeve of the wire and another separate crimp to grasp the conductor.
By having separate crimps, the conductor doesn't need to be bent 180° and get squeezed between the terminal and sleeve. This individual conductor crimp produces a more secure crimp and there is less chance of spark arcing to the engine block or exhaust manifold through the boot!
90° Spark Plug Terminals, 100 each
Part #:
34615
Length: 0.5"
Width: 6"
Height: 9"
Emissions Code: 5
Prop 65: No