---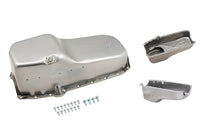 Oil Pan Complete with drain plug, washers & bolts, OEM Style w/ Stock Depth and Capacity. Dipsticks with tubes sold separately.
Mr Gasket Oil Pan - Natural Unfinished Steel
Part #:
9425
Length: 22.5"
Width: 11.2"
Height: 8.4"
Emissions Code: 5
Prop 65: No
Installation Notes:
Oil pans will not fit: Trucks, 1966-67 Chevy II, 302 high performance engine. and Corvettes. Will not fit Chevelle models with steering linkage behind engine cross-member. Will not fit stroker engine applications.