---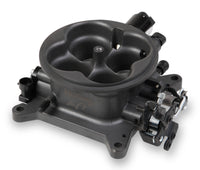 Holley's new 1000 CFM Throttle Body shares the same air entry area design that powers every NASCAR Sprint Cup Series™ car! The throttle body features integrated throttle position, idle air control and intake air temperature sensors, Ford and GM transmission kick down levers as well as all necessary vacuum ports.
Universal 4BBL 1000CFM 4150 Flange Throttle Body
Part #:
112-587
Length: 12.25"
Width: 11"
Height: 7.5"
Emissions Code: 3
Prop 65: No
Installation Notes:
This throttle body is an air valve only (no injectors).
FEATURES
Standard square bore mounting pattern for installation on many intake manifolds
Flows 1000 CFM to handle high horsepower engines
Exclusive CFD computer modeled air entry area delivers maximum velocity and accelerated air speed
Integrated TPS, IAC, and Air Temperature Sensor
Hi Flow IAC passages for large cubic inch engines for idle stability
Ford Transmission kick down Lever for use with Ford automatic transmissions
Integrated GM 700R4 transmission kick down location no adapters needed
All necessary vacuum ports (1) timed spark, (2) 3/8" and (2) 3/16" full manifold vacuum ports
1.75" throttle plates mounted to PTFE coated throttle shafts for high flow and a smooth feel
High quality die cast aluminum for strength and weight reduction
Hard Core Gray finish