---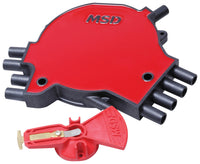 LT1 fans have been searching for a cap that could deliver the performance of the LT1 and MSD is happy to bring it to them.

Remember, changing the cap and rotor on this engine is no walk in the park. So when you do it, you want to make sure to install the best parts possible and the MSD Cap and Rotor deliver.

The all-new cap housing is injection molded from a special DuPont material that provides extreme strength and high dielectric properties resulting in less chance of breakdown causing a misfire. The terminal paths are encased in a durable epoxy compound for even more protection. The rotor is also an all-new molded piece with a brass/stainless rotor tip design.
LT1 Distributor Cap & Rotor Kit, '95-'97 GM, LT1, 350/5.7L SFI
Part #:
84811