---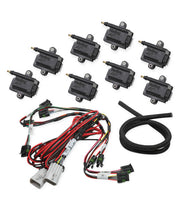 Do you need precision control over your ignition system? Would your combination benefit from Individual Cylinder Timing Control? Are you experiencing spark issues with your Stock Coils? Are you wanting to convert your Turbocharged Big Block Monstrosity to Coil-Near-Plug?! Problem solved, introducing the Holley EFI Big-Wire C-N-P Kit containing everything you need to upgrade your ignition system to handle 5.5+ HP per Cubic Inch
Big Wire Coil-Near-Plug Smart Coil Kit
Part #:
556-128
Length: 16.63"
Width: 11.88"
Height: 4.75"
Emissions Code: 4
Prop 65: No
Installation Notes:
The supplied connectors and pins are "Pull to Seat " This means that you need to insert the wire through the connector from the back, crimp the pin and pull it back into the connector for assembly. Always use proper crimping tools to ensure a proper connection.
FEATURES
"Big Wire" Sub Harness- Pre wired with 12ga Power and Grounds, for optimal performance!
Peak Voltage – 44,000 Volts
Peak Output – 102 Mj
Maximum Battery Voltage 17.0 Volts
Upgrading a Non C-N-P Main Harness requires the Holley Universal Coil-On-Plug Harness, P/N 558-307 to complete the installation!
Contains two Terminated Sub-Harnesses, and Eight Holley Smart Coils, 3 ft. of wiring loom for a professional appearing installation!
Sub Harness features Fully Terminated Coil Connectors, a 7 Pin Metripak Connector used on several Holley EFI C-N-P Main Harnesses, and 3 loose wires for a quick installation!