---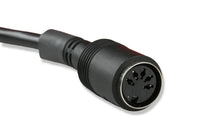 This MSD Timing Light is perfect for working in a garage, outside in the sun, or anywhere else you need to check your timing. The light provides stable, reliable signals from 0 to 10,000 rpm so that you can be sure of your tune all the way through red-line. With a patented flash, we make it easy to see your timing scale by being up to three times brighter than standard timing lights.
This rugged timing light is built to work in the toughest of environments. The MSD Timing Light's heavy duty resin casing is strong, easy to clean and resistant to corrosives and most other chemicals that could get on it while you work. This light is built to protect itself from the abuse that occurs to tools.
The MSD Light uses a metal inductive pickup that will not melt if accidentally touched against hot components like an exhaust manifold. A 6-foot leads provide plenty of reach from the battery to most timing indicators. The battery clamps are color-coded, insulated, and have a strong spring to ensure a tight, safe connection.
MSD Timing Pro Timing Light
Part #:
8992