---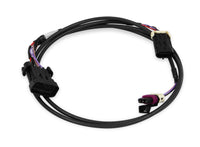 This fully terminated harness is compatible with HP and Dominator ECU's and is plug and play w/ the following products:
554-118-HALL EFFECT CRANK TRIGGER SENSOR
554-124-FERROUS TARGET CRANK SENSOR
554-125-FLYING MAGNET CAMSHAFT SENSOR
554-127-CAMSHAFT SENSOR W/ FLYING MAGNET TARGET
556-114-BBC CAM SYNC KIT W/BRACKET
556-119-SBC CAM SYNC KIT W/BRACKET
Crank/Cam Ign. Harness. Fully terminated harness.
Part #:
558-431
Length: 6.5"
Width: 6"
Height: 4.25"
Emissions Code: 4
Prop 65: No