---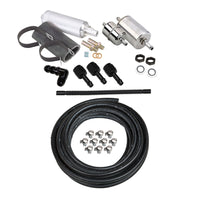 Holley EFI fuel kits are the perfect addition to your Sniper EFI or Holley EFI kit. They are engineered using Holley fuel pumps, regulators and filters coupled with quality Earl's plumbing to provide a fuel system tailored to the needs of your EFI System.
The secret to Earl's Vapor Guard hose is in its layers. The innermost Primary Barrier Layer offers high resistance to heat and aggressive fuels. The middle Earl's Vapor Guard™ Barrier is a Thermoplastic layer that provides superior fuel isolation and virtually eliminates vapors from escaping through the hose. The Exterior Cover Barrier provides extreme tolerance to heat and ozone giving Earl's Vapor Guard a three way shield against hose deterioration.
Holley EFI Fuel System Kit
Part #:
526-5
Length: 12.25"
Width: 11"
Height: 7.5"
Emissions Code: 4
Prop 65: Yes
Installation Notes:
This kit is recommended for pump or race gas use only. The included fuel pump is not compatible with E-85.
FEATURES
20ft of 3/8" Vapor Guard Fuel Hose
12-920 Fuel Pump
Pre and Post Fuel Filters
Necessary hardware and bulkhead fitting to return fuel into the tank
•Multi-fuel compatible: Approved for use with leaded and unleaded Gasoline
Diesel
Biodiesel
E-85
100% Methanol
ETHANOL and Gasohol fuels
•Multi-layer rubber hose designed to withstand to the corrosive properties of modern fuels