---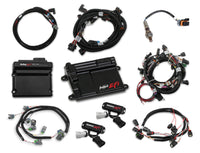 Introducing Coyote Twin Independent Variable Cam Timing Control from Holley EFI! Do you have a coyote crate engine going in your dream car? Is your weekend road race warrior powered by a coyote junkyard engine with locked cams? Unlock the full potential of your high revving power plant with the Holley EFI Plug and Play Coyote Ti-VCT Control Module.
2013-2017 Ford Coyote Ti-VCT HP EFI Kit, NTK O2, USCAR INJ
Part #:
550-625N
Length: 12.25"
Width: 11"
Height: 7.5"
Emissions Code: 4
Prop 65: No
Installation Notes:
Designed to be used with a cable driven throttle body.
FEATURES
Now supports 2015-2017 Coyote engines
HP EFI kits available
Plug and Play main harness for 2011-2017 Coyote engines w/ stock cam shafts using stock coils (558- 110)
Plug and Play main harness for 2011-2017 Coyote engines w/ stock cam shafts using Holley EFI coils (558-122)
Compatible with HP or Dominator EFI
Pre-calibrated Ford sensor drop downs in the Holley EFI software
Ti-VCT Cam control down to 400 RPM
Commanded timing matched within 1 degree
User programmable tables enable the end user to fine tune aftermarket Ti-VCT compatible camshafts
4 Built in Diagnostic LEDS make diagnostics easy in the event of a cam or crank sensor failure
Integrated stock cam position tables – eliminate tuning guess work, optimal drive-ability and power right out of the box
Main harnesses come terminated with Ford TPS and IAC connectors, making it easy to convert from a DBW throttle body to a manual throttle body.
Installation of an external MAP sensor is required, we recommend part number 538-13 for N/A applications
Main Harnesses includes a Power Tap Connector, as a convenient source for power and grounds when adding additional sensors or actuators
CANBus communication between Coyote Ti-VCT and Holley EFI ECU for high speed data transfer and diagnostics