---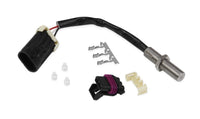 Every racer around is well aware that the crank sensor is an integral part of the fuel injection system.
Holley's EFI Crankshaft Signal Sensor is designed to generate an RPM input signal to the ECU when used in ferrous target crank trigger setups. This sensor is a Hall Effect sensor, meaning it outputs a digital square wave signal, which is ideal for use with most Electronic Fuel Injection Systems.
Crankshaft Sensor
Part #:
554-124
Length: 6"
Width: 3.25"
Height: 3.25"
Emissions Code: 5
Prop 65: No
Installation Notes:
This sensor is to be used with trigger wheels with ferrous steel targets or teeth. it does not detect "flying magnets".
FEATURES
3 wire hall-effect crankshaft sensor
generates digital
For use w/ ferrous metal targets only (does not detect flying magnets)
Can operate from 8-20 volts; mating connector included
M12x1 threads for finer gap adjustability; Approx. 2" length
Will function as an auxiliary speed input (i.e. driveshaft)