---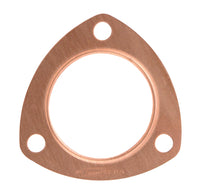 Mr. Gasket Copper Seal collector gaskets are made from Dead-Soft Copper.
Collector and Header Muffler Gasket - 2 1/2" diameter - Copper Seal Collector/header muffler gaskets are designed to prevent leaks between header and collector flanges. Designed for high-performance street, drag race, oval track and turbo-charged (extreme heat) applications.
Bulk gaskets are sold individually, 1 pc.
Collector Gasket - Copper - 2-1/2"
Part #:
7176MRG
Length: 3.8"
Width: 3.6"
Height: 0.1"
Emissions Code: 5
Prop 65: No