---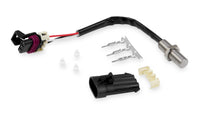 Holley EFI Cam Sync Signal is designed to generate a cam sync input signal to the ECU when used in flying magnet cam trigger setups. This sensor is a Hall Effect sensor, meaning it outputs a square wave signal, which is ideal for use with most electronic fuel injection systems.
Camshaft / Crankshaft Sensor Flying Magnet Sensor
Part #:
554-125
Length: 6"
Width: 3.25"
Height: 3.25"
Emissions Code: 5
Prop 65: No
Installation Notes:
This sensor is to only be used with a "flying magnet" target like Holley P/N 554-126. The internal Hall switch triggers from the South Pole of a magnet. It will not detect a ferrous metal target.
FEATURES
3 wire hall-effect camshaft sensor, generates digital square-wave signal
For use with flying magnet targets only – South pole of magnet facing sensor
Can operate from 8-20 volts; mating connector included
M12x1 threads for finer gap adjustability; Approx. 1.5" length
"554-124