---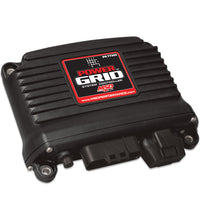 The Power Grid Ignition System is the next evolution of our Programmable 7-Series Ignition Controls. The Grid incorporates an efficient 32 bit microcontroller and an all new software program, called MSD View, and is USB compatible. The Windows based software is designed with tabs to help racers easily select different programming windows and parameters. Also, the data acquisition files of the ignition are now captured on a micro SD card for ease of storage and reviewing.
The Power Grid Ignition incorporates CAN-Bus technology which reduces the amount of wiring and simplifies the addition of accessory modules. The CAN-Bus is a common harness that accessory controls are connected to and easily brought into the programming library of the View Software. With this technology, racers can connect the Power Grid system directly into their Racepak Data Recorder and other Racepak products.
The Power Grid Controller is the brains behind the entire system and can be used with any MSD Ignition or the Pro Mag to provide advance ignition tuning capabilities. While it is compatible with all MSD boxes, the new Power Grid System Controller has been specially designed to mount to the Power Grid-7 box. Also, this new Ignition packs higher output than the current programmable units!
The Power Grid Controller is supplied with the View Software, wiring harness, micro-SD card and mounting hardware. The ignition, available separately, is supplied with the harness and mounting hardware.
NOTE: To use any modules with the Power Grid Ignition System, PN 7720 and 7730, users MUST plug the modules into a 4-Connector CAN-Bus Hub PN 7740 to be attached to the Power Grid System Controller.
MSD Power Grid System - Controller Only - Black
Part #:
77303
Length: 11"
Width: 8"
Height: 3"
Emissions Code: 4
Prop 65: Yes
Installation Notes:
Designed to be used with PN 7720 ignition controller.