---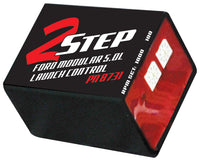 When activated, the rpm will be held at a steady rpm and once the green light comes on, release the clutch and take off - but be sure to hold on! The rpm is adjusted with two built-in rotary dials ranging from 1,800-9,900 rpm in 100 rpm increments. A handy LED shows when the launch rev limit is active.
2-Step Ford Coyote 5.0L, 2011 to 2016
Part #:
8731
Installation Notes:
For applications with production dates after 2/2016, see part number 87311.